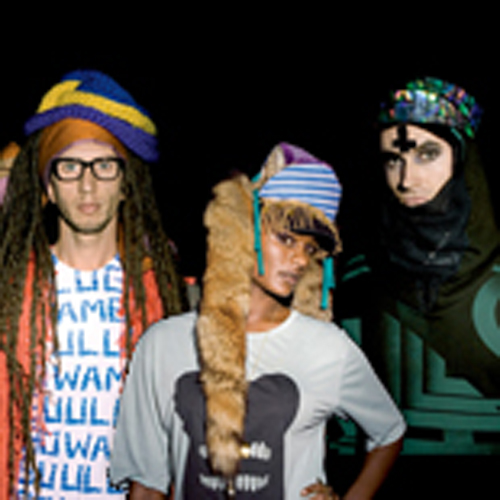 WEB
DATE
2010.01.09 (SAT)@大阪CLUB ROCKETS
(Osaka)
2010.01.10 (SUN)@Amate raxi
(Tokyo)
2010.01.11 (MON)@Wut BERLIN
(Tokyo)
RELEASE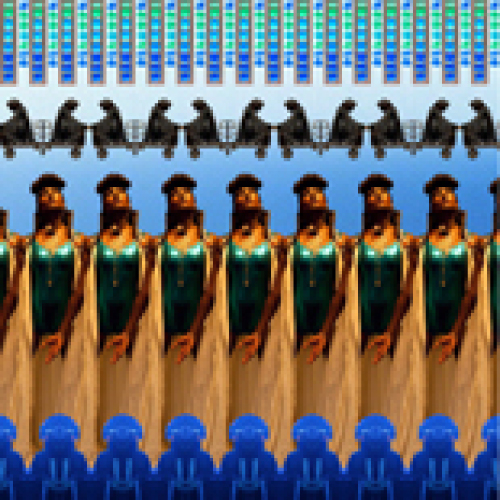 JAHCOOZI
音楽的にも文化的観点から言っても、ジャクージは自らの混血的エレクトロ・ポップ・ミュージック・スタイルを貫き通している。このクリエイティブな集団はステージ・アニマル兼ソングライターであるMC サシャ・ペレラ(ロンドン/スリランカ出身)、ビート狂プロデューサーのロボット・コッチ(ドイツ出身)、サウンド・テック兼ベーシストのオーレン・ゲーリッツ(テルアビブ/イスラエル出身)の3人である。
お互いが出会い、共に音楽を作り始めたのが2002年の寒い冬のベルリンでの事。それ以来3人は共に活動して来た。2003年、活動を始めたばかりの彼らは『Black Barbie』『Fish』といった曲で徐々に名が知れ渡り、伝説的ラジオDJ ジョン・ピールが彼らの送ったCD-R を番組で流す。
ジャクージのユニーク且つ柔軟なアヴァン・ダブ・グリッチ・ステップ的なサウンドは真摯でポップありながら、暖かみのある低音とクランチーなサウンド、精密でありながらオーガニックな質感を見事に融合している。これまでにリリースした2枚のアルバム(2005年Kitty-Yo からリリースされた「Pure Breed Mongrel」と2007年Asound からリリースされた「Blitz'n'Ass」)と数えきれない程のEP、ピクチャーディスク、リミックスをKitty-Yo, Asound, Playhouse, Ninja Tune, Bpitch, Citizen Records, Crosstown Rebels, 1965, WMF といった数多くの名だたるレーベルからリリースをする。
数えきれない程の魅惑的なライブ・パフォーマンスと楽曲制作を重ねた結果、彼らの名は世界中に轟く様になる。彼らの旅は権威あるミュージック・フェスティバル(Transmediale, Today's Arts, Lowlands, Electrowave 等々)からトランシルバニアのレイヴ・パーティーやベルリンで密かに行われている地下パーティーまで飛び回り、どのパーティーでもダンスフロアーにオーディエンスを巻き込むモッシュピットが発生する程パワーに溢れ、そのエネルギッシュなステージングは必ず最終的にはその場に居る全員が完全燃焼間違い無しの熱いライブだ。彼らのライブ・パフォーマンスは熱心なジャクージー・ファン達の間でも予想不可能な部分が多い。多くのバンドにとって、ライブは自らの音源を忠実に再現する場であり、音源通りのパフォーマンスを望むファンも少なくないだろう。しかし、ジャクージーのライブは意識的にオリジナルとは異なるリミックスや未発表バージョン、自らの楽曲のブートレッグや未発表曲をふんだんに織り交ぜ、純粋にライブパフォーマンスやダンスフロアーを興奮の坩堝へと導く。
Both musically and culturally, JAHCOOZI have created their own brand of unique globalism, mesmerising punters and listeners with a style that is unarguably their own.
This 3-piece creative crew consists of stage animal/songwriter MC Sasha Perera (born to Sri Lankan parents and raised in London), genius beat freak producer Robot Koch (from Germany) and audiophile sound tech/bassist Oren Gerlitz (originally from Tel Aviv/Israel). The band first met and almost simultaneously started making music in the cold winter of 2002 in Berlin.
In 2003 their first ever tracks as a group 'Black Barbie' and 'Fish' found their way into the hands of (the most) influential radio DJ John Peel. The late lengendary DJ played the songs on his show and with their very first songs, Jahcoozi were officially on the map.
Their unique but open avant dub glitch step-like sound is twisted but pop at the same time. Basslines are warm but the sound is crunchy – though it sounds calculated, there still remains an organic element. The amasing combination of the above is what gives Jahcoozi its original, heavily addictive sound. They have released 2 albums to date (Pure Breed Mongrel – released on Kitty Yo in 2005 and Blitz'n'Ass released on ASound in 2007)and countless EPs, picture discs and remixes on world renown labels such as Kitty-Yo, Asound, Playhouse, Ninja Tune, Bpitch Control, Citizen Records, Crosstown Rebels, 1965 and WMF.
More recently,Jahcoozi have collaborated with dance music pioneers such as Modeselektor, Asian Dub Foundation, Massive Attack, Siriusmo, Stereotyp, Buraka Som Sistema, Missill, RQM, M Sayiid(Anti-Pop Consortium), MC Soom-T, Lexie Lee, Ata & Sasse, Cassy, Luomo, Lethal B, Kano, JME, Skepta, , New Flesh, Infinite Livez, Al Haca Soundsystem, Puppetmastaz, Hannah Holland, Chris De Luca vs.Phon.o, Rustie, DJ Maxximus, Mochipet & King Cannibal.
Their electrifying live show has taken them across the world – from playing established festivals such as Transmediale, Today's Arts, Lowlands, Electrowace to smashing the dancefloor at a rave in Transylvania, to causing moshpits to appear out of nowhere at underground parties in Berlin.Even amongst seasoned Jahcoozi fans, their live show is something that can't be predicted. For many bands, a live show is a chance to have their listeners to live re-enactments of recorded tracks, and for some fans, this is what they seek. However when Jahcoozi take to the stage, the crowd is attacked with different mixes, live adaptations, unreleased elements, essentially doing a live bootleg version of their own songs and making sure no one can stand still if they're anywhere near the dancefloor.