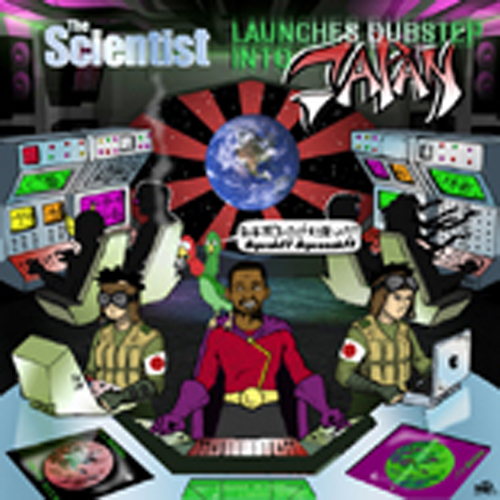 RELEASE INFORMATION
Artist:V.A.
Title:SCIENTIST LAUNCHES DUBSTEP INTO JAPANDub
Cat no:HYDRA-010
Price:¥1,980 (税込)
Release:2011.03.26
Label:HYDRA Records

ダンスミュージックの原点と未来を繋ぐ歴史的一枚がここに誕生。
本家ダブのパイオニア「サイエンティスト」が、世界規模で発展し続けているダブステップを再構築!ブリトニー・スピアーズ、リアーナ、スヌープ、キーシャを始めとしたメインストリームのアーティストをも虜にする最も勢いのあるダンスミュージック『ダブステップ』を『サイエンティスト』がどのように調理するのか、全音楽ファン必聴のアルバム!
Tectonic's most ambitious project to date, 'Scientist Launches Dubstep Into Outer Space' saw legendary dub engineer Scientist version 12 exclusive and unreleased dubstep rhythms from the scene's top producers including Kode 9, Shackleton, Pinch and Mala. HYDRA Records then took this historic record, added 6 brand new exclusive mixes from Scientist, and added it to the original to create the exclusive Japan version of the Tectonic record 'Scientist Launches Dubstep Into Japan'.
SCIENTIST LAUNCHES DUBSTEP INTO JAPAN
UKが誇るダブステップをはじめ斬新なダンスミュージックを排出し続けて来たPINCH率いるTectonicレーベル。そんなTectonicが未だかつてない挑戦に挑んだ。それは『ダブステップ』のプロデューサー陣と本家ダブ・ミュージックの生みの親の1人であるKing Tubbyの愛弟子、SCIENTIST(サイエンティスト)を組み合わせたこと。制作に1年以上かかった本作は、ルーツ(源)とフューチャーイズム(未来)を融合させ、世代や国を超えた奇跡的な邂逅であり、ダンスミュージックシーンにとって実に重要な一撃となっている。
ダブステップからはシーンの最重要アーティストたちが集結。Digital Mystikz名義でダブステップ最重要イベントDMZの主催者でもあるダブステップの創始者の1人、Mala。Burialを排出したHyperdub主宰のKODE 9。本作品の発案者でありレーベル主宰者、シーンの黎明期から活躍しているPINCH。Skream,、Benga、Mala等と共にシーンの創始者の一人として名前が上がるLOEFAH 初期からマイクを握って何万人もの客を盛り上げて来たSergeant Pokes。そしてThe Bug名義でニンジャチューンから数々のヒットを飛ばし、King Midas Soundとしてもシーンを長く騒がせて来たKevin Martin。Smith & Mightyとしてイギリスを代表するダブ/ジャングル等の最重要人物として長年活躍して来たRob SmithもRSD名義で参戦。その他、若手のGuidoやCyrus等も曲を提供している。
それら最上のダブステップの楽曲を、ホープトン・ブラウン別名SCIENTIST(サイエンティスト)が70年代から続くダブの手法で再構築したという、世代を超えた全音楽ファンにとっては本当に宝物と言える一枚。
サイエンティストのキャリアはダブ・ミュージックの親とも呼ばれるKING TUBBY(キング・タビー)のスタジオで始まり、80年代にはボブ・マーレーのTUFF GONGスタジオのエンジニアとして君臨した。そこで今や伝説的名盤の「Scientist Rids The World Of The Curse Of The Evil Vampires」や「Scientist Wins The World Cup」が生みだしている。King Tubby、 Lee "Scratch" PerryやPrince Jammy同様SCIENTISTは独自のダブミックス手法で自分の音を確立させていった。 00年代、急速に世界中へと拡散したダブステップにはサイエンティスト等からの影響は明らかに見て取ることが出来る。南ロンドン、東ロンドンの小さなシーンから生まれ今やメインストリームでも注目を浴びるこの音楽には70年代にサイエンティスト等が生み出したベース&ドラム、空間の重要性をはっきりと意識している。本作によってダブステップはそのルーツとの邂逅を果たし、新しい進化を遂げた。
世界レベルでレゲエ/ダブのシーンが成熟し、常に最先端のカルチャーを生み出す日本にこのアルバムが到着するのは必然と言えるだろう。
It's a vital and unprecedented move for dubstep both in its home of the UK and in Japan, which is still a young environment for this world engulfing bass music; one year in the making, uniting roots and futurism in visionary style. In archetypal style, Scientist puts decades of tactile, hands-on experience to work, deftly transforming the killer originals into living, breathing dub music with his most sacred of black arts.
The effect is most radical when he renders the ultra modern surfaces of Guido's 'Korg Back' or Pinch and Emika's prescient stepper '2012', realigning the dance's depth perception with the skill of an electro-acoustic mastermind. No less, when working with vocalists such as Dokkebi Q's Hitomi and poet Roger Robinson in King Midas Sound's 'U' or the dread vibes of Spaceape on Kode 9's 'Abeng', he enhances their duppy potential tenfold. Perhaps most spooky of all is his version of Shackleton's 'Hackney Marshes', morphing the original's Nyabinghi-like percussion into a subtly spiritual and psychoactive slab of riddim minimalism. However, for many the highlights will be the dreadnaught overhauls of Mala DMZ's bassbin punishing 'City Cycle', and Loefah & Sgt. Pokes' 'Dog Money' respectively, realising many dub-fiend's most feverish dreams in ultra-heavyweight fashion.
Hopeton Brown aka Scientist is one of Jamaica's most revered dub engineers. His career behind the mixing desk began in the mid '70s at King Tubby's Dromilly Road studios in Kingston earned him the "Scientist" tag in a legendary conversation between Bunny Lee and King Tubby. By the early '80s he was working at Tuff Gong studios and it was during this period that he created his seminal series of albums for Greensleeves including 'Scientist Rids The World Of The Curse Of The Evil Vampires' and 'Scientist Wins The World Cup'. In the tradition of Lee "Scratch" Perry, King Tubby, and Prince Jammy, Scientist developed a distinct and unmistakable style, manipulating reverb, delay and filters to create transient sonic dimensions which places him as one of the most distinguished dub engineers alive today.
With the advent of dubstep in the early '00s and its subsequent entry to international consciousness, Scientist's influence has never been more pertinent. From its genesis in sweaty, bass-loaded backroom sessions of South and East London to mainstream chart status, dubstep has come to define the cutting edge of dance music while still adhering to the deeply rooted principles of bass and space laid out by the original dub auteurs. Creating an optimized, tactile experience with emphasis on physical bass weight and immersive psychoacoustics is an aesthetic clearly shared by the original Jamaican engineers and the vanguard of contemporary dubstep.
TRACK LIST
01. Scientist vs Pinch & Emika '2012 Dub'
02. Scientist vs Pinch & Emika '2012 Dub (Part 2)'**
03. Scientist vs Armour (Roly Vex'd) 'The Long Way Dub'
04. Scientist vs Armour (Roly Vex'd) 'The Long Way Dub (Part 2)'**
05. Scientist vs Guido "Korg Back Dub"
06. Scientist vs Shackelton 'Marshes Dub'
07. Scientist vs King Midas Sound 'U Dub'
08. Scientist vs King Midas Sound 'U Dub (Part 2)'**
09. Scientist vs ASBO (Loefah & SGT Pokes) 'Dog Money Dub'
10. Scientist vs ASBO (Loefah & SGT Pokes) 'Dog Money Dub (Japan Version)'**
11. Scientist vs Distance 'Ill Kontent Dub'
12. Scientist vs RSD ft. Prince Jamo 'After All Dub'
13. Scientist vs Jack Sparrow 'Red Sand Dub'
14. Scientist vs Mala (Digital Mystikz) 'City Cycle Dub'
15. Scientist vs Cyrus (Random Trio) 'Footsteps Dub'
16. Scientist vs Cyrus (Random Trio) 'Footsteps Dub (Part 2)**
17. Scientist vs Kode 9 & Spaceape 'Abeng Dub'
18. Scientist vs Pinch & Emika '2012 Dub (Japan Extra Dub)**
**Exclusive to Japan(日本盤独占収録)