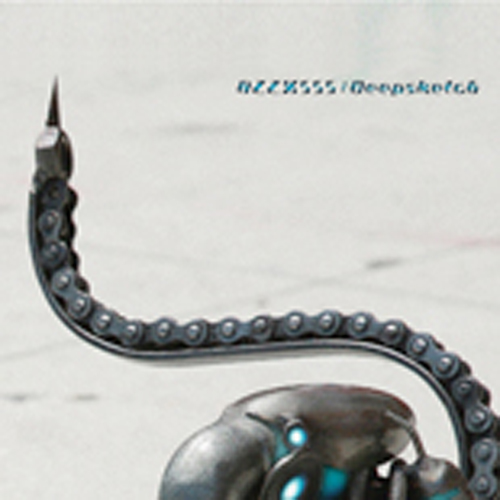 RELEASE INFORMATION
Artist:AZZXSSS(アズクス)
Title:Deepsketch(ディープスケッチ)
Cat no:HYDRA-009
Price:¥1,980 (税込)
Release:2010.11.27
Label:HYDRA Records / Tempa

DUBSTEPのパイオニア SKREAM の新作「Outside The Box」を日本で放つレーベル HYDRA RECORDS。SKREAMに続き世を震撼させるアルバムのリリースが決定!
唯一無二の進化系ダブステップ型ダンスミュージック
Made up of 2 producers from different musical playing fields, AZZXSSS have created an album that tells intricate stories through sound, weaving elements of music from hip-hop to minimal techno, bound together in the form of a ground-breaking dubstep album.
AZZXSSS
Mellow Yellowのプロデューサーとしてヒップホップ界に名が広まり、更にTribe Called QuestやPeanut Butter Wolfのリミックスを通して世界中で評価が高まり今やビートシーンでは知らない人はいないAZZURRO。Francois Kの名門レーベルDeep SpaceからBeat PharmacyのギタリストとしてのリリースやAptInternational, Wave Musicと言った国内外トップクラスのダンスミュージックシーンでリリースをし続け活躍してきたShigeru Tanabu。
この2人が作り上げた世界は正に新境地。
ダブステップの中でも新しい方向性を見つけた彼らは各自の申し分ないバックグラウンドをあくまでも土台とし、そこから見えるダブステップ/新しいダンスミュージックのあり方を今作で前面に表現。その結果生まれたのは世界基準のオリジナリティーで溢れ出すダブステップ・アルバム。
海外DJ/レーベルから既に注目を受けているその音源は未だかつてないダンスミュークの傑作!
AZZURRO (AZZ of AZZXSSS) has his history in hip-hop – after being recognized in his home country as the producer of one of its original hip-hop groups Mellow Yellow, his name then travelled the world in hip-hop circles after acclaimed remixes for such acts as A Tribe Called Quest and Peanut Butter Wolf. Known for his solid and progressive sound productions within hip-hop Azzurro wasn't one to rest on his laurels and after pushing boundaries with 2 solo albums, started venturing into other drums + bass orientated dance music. This saw the releases of "Attributions" a collaborative album with Inner Science (HYDRA-002/HYDRA Records 2009) which saw his hip-hop backbone develop further into a breaks driven melodic texture-based cutting edge sound, and "Bastard Dub" (HYDRA-006/HYDRA Records 2010) which saw Azzurro re-construct a 30 min live set by 3-drumkit improvisational band CHIKA CHIKA into a musical journey starting from hip-hop and progressing up to a hardstep/dubstep remix of live guitars and drums, as if a testament to the development of his own sound.
This album "Deepsketch" by AZZXSSS sees Azzurro combine forces with Shigeru Tanabu also known as SOLID STATE SOUL (SSS of AZZXSSS). After releases on world renown labels such as Francois K's Deep Space as the guitarist of Beat Pharmacy, as well as respected domestic house labels such Apt International and Wave Music, Solid State Soul has a history originating in rock but mainly flourishing in the world of tech house. Turning his ears towards dubstep upon venturing into the dub/crossover sound with Brendon Moeller as Beat Pharmacy, Solid State Soul has been creating a form of dubstep that can only be called original. A separate project to Beat Pharmacy called Manaboo also with Brendon Moeller will have a release on Bristol-based Immerse Records, home to tunes by luminaries such as Benga, Horsepower and Ramadanman. On this album "Deepsketch" that originality shines through as 2 top producers give their take on dubstep as it is now, not depending on oscillated wobbly basslines but focusing on gut wrenching sub bass and intricate but hard drum patterns.
TRACK LIST
1. Deepsketch
2. Silver Lake
3. Kapelmuur
4. Kengun
5. Tribe
6. Lady Beware
7. Ishikari
8. Nagisa Le Parti Secondi
9. Break It
10. Nacht Muzik